You Can Have It All - And You
Can Have It All In One Place
Choose your modules and put them together anyway you like with Can-Am Modular Steel Cabinets. CD and DVD storage drawers next to hanging file drawers. Radical. There's a module for every purpose imaginable.



Living Room Furniture...
Good Enough For Your Office
Fine Furniture is characterized by superior design, quality, and craftsmanship. Can-Am has been manufacturing and delivering fine steel furniture for more than 40 years. It's a tradition we're very proud of. We believe that metal furniture does not have to look or feel like typical filing cabinets - and ours do not.




Credenza, Counter, Archive,
Workstation, Boardroom...
Imagine a high capacity CD / DVD storage system multi-tasking as a room divider or a customer service counter. Imagine your entire digital CD archive at your fingertips. Go ahead, let your imagination run wild. Go configure your setup around your needs and your space -no tools or assembly required.



Can-Am cabinets feature a powder coat finish that is extremely durable, eco-friendly, and hypoallergenic - emitting no volatile organic compounds (VOCs) that can aggravate allergies in some people.



Affordable And Expandable
You get a custom designed storage solution at an affordable price, and the comfort of knowing you invested in an archiving system that will grow with you. Can-Am modular cabinets are durable, reconfigurable and infinitely expandable.
Your Only Limit
Is Your Imagination
Design the ultimate storage solution anywhere. Keep your backup material close at hand, or as far as a trusted employee's residence.


Mix And Match
Whether you store your disc on spindles, in jewel cases or sleeves, Can-Am cabinets can handle it all.

With eighteen powder coat finishes to choose from, Can-Am cabinets are sure to match any decor in style.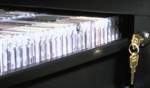 Peace Of Mind
Safety interlocking drawers, locks and linking hardware provide safety and security.
Can-Am steel furniture is eco-friendly and completely recyclable. No trees - no landfill. It's all good.