Lots Of Models And Accessories Available (Click For Details)
Two drawer cabinet, MC2D14 is $595

MC2D14 has a capacity of 540 CDs or 240 DVDs or 300 Blu-ray in standard packaging, 1,080 discs in slimline cases or 2,000 discs in sleeves.
37-3/4"W by 14-1/2"H by 20"D

Three drawer cabinet, MC3D20 is $745

MC3D20 has a capacity of 810 CDs or 360 DVDs or 450 Blu-ray in standard packaging, 1,620 discs in slimline cases or 3,000 discs in sleeves.
37-3/4"W by 20-1/2"H by 20"D


Four drawer cabinet, MC4D27 is $985

MC4D27 has a capacity of 1080 CDs or 480 DVDs or 600 Blu-ray in standard packaging, 2,160 discs in slimline cases or 4,000 discs in sleeves.
37-3/4"W by 26-3/4"H by 20"D


ALSO AVAILABLE : MC3D27 -

Three drawer cabinet with extra-tall 8" drawers for media, sleeves, and other items that may be too tall for our standard 6" high drawer cabinets. MC3D27 accommodates our Dividers & Backstops at 4, 5 or 6 rows. It is sized like our 4 Drawer Cabinet (MC4D27).

We even have a selection of narrow cabinets


M2D14X24 - Narrow 2 Drawer Cabinet
with 6" drawers (270 CDs / 120 DVDs)
23.5" W x 14.5" H x 20" D


M3D20X24 - Narrow 3 Drawer Cabinet
with 6" drawers (405 CDs / 180 DVDs)
23.5" W x 20.5" H x 20" D


M4D27X24 - Narrow 4 drawer cabinet
with 6" drawers (540 CDs / 240 DVDs)
23.5" W x 26.75" H x 20" D


M3D27X24 - Narrow 3 Drawer Cabinet
with three 8" high drawers
23.5" W x 26.75" H x 20" D
That's Just The Beginning!

You can confidently stack media cabinets up to nine drawers high. Safety interlocking drawers prevent tipping, levelers ensure stability and linking devices for stacking are provided. Key locks are standard. Dividers and backstops, label holders, wheels, caddies, legs and tops are also available.

Can-Am media cabinets are part of a family of modular components. We offer a variety of storage solutions that can be stacked and reconfigured as your needs change. There are Vinyl LP cabinets, AV component and computer modules, general storage modules – even filing modules for hanging files.

You don't outgrow Can-Am Cabinets - they grow with you.
Imagine 4,860 CDs in Jewel Cases
Or 18,000 in Sleeves in 6 Feet!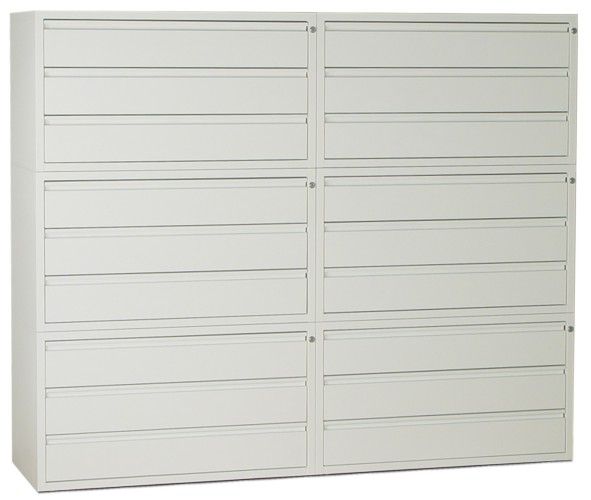 Dividers & Backstops
An Optional Divider and Backstop system creates rows for your media and keeps them in place and under control, even if the rows are not full. The unique system creates six rows for CDs or four rows for DVDs, Blu-ray and VHS tapes.
DVDs sit spine up and CDs sit label up, facing forward for easy reading and easy access.
Can-Am drawers are outfitted with a series of holes at the rear of the cabinet and coresponding slats at the front. The rods are inserted into the desired holes and slats. The Backstops glide along the divider rods and self lock.

6 Rows For CDs & 4 Rows For DVDs & Blu-ray


Dust-Free And Secure.

Can-Am vinyl storage cabinets feature a lock for safety and security. The cabinets are equiped with an interlocking mechanism that allows only one drawer to open at a time.

Eco Friendly As Well.

Can-Am cabinets are made of steel. Nothing is stronger or more durable and since steel is completely recyclable your cabinets will never end up in a landfill.

Customize your cabinet with a variety of accessories. Click an item above for details.

Your only limit is your imagination. Can-Am modular cabinets can be configured into your dream TV Stand, Stereo Center or Zen for your Den. Can-Am Cabinets are built to last. From one generation to another.

Can-Am Cabinets Are Available in 18 Colors To Match Any Decor

Cabinet Colors

Click a small Cabinet picture
to view the
larger version

Chocolate
Brown
Hunter Green
Beige

Director Red

Antique White
White Gloss
White Satin
Fog Gray
Silver
Satin
Metallic
Steel
Black
Gloss
Teal
Blue
Navy Blue
Steel Blue
Plum
Storm
Gray
Charcoal
Gray
Black
Satin




Colors are not always represented accurately on your computer screen. Feel free to request color samples and we'll send out actual powder coated metal samples. Can-Am cabinets are available with or without locks.

What Makes Can-Am Cabinets So Special?

Can-Am cabinets are built to last and designed to grow with you. With forty modules in our offering and tons of accessories, there is no limit to the configurations you can design. And when you move, these cabinets can be reconfigured to move with you.

Pictured here is a 2-drawer Vinyl LP cabinet LPCAB29 on top of a 2-drawer CD cabinet MC2D14, topped off with a metal top MTOP40.

Can-Am

CD / DVD Storage Cabinets

To See Your Shipping Costs Click Here.

Or Call Us At 800-387-9790, or Email: mail@can-am.ca

LP Storage | Electronics | TV Stand | Home Theater | Computer | Desk | Lifestyle | Archive | Home / Office Solutions | File Cabinets | Products | Multifunctional Cabinetry | Sample Configurations Testimonials | Features | Photos | FAQs | Prices & Specs | Colors | Etc | How To Order | Contact | Home