At Can-Am You Get To Design Your Own Desk
You choose which module will act as your left desk pedestal and your right desk pedestal. Choose any two narrow cabinets of the same height and you're on your way to your dream desk. Click on each module in the left column for details. Choose 20.5" high modules on tall legs or 27" high modules on short or no legs. Either way they look great and more importantly - they work great. Just the right height, just the right amount of CD and file storage, just the right depth and just the right power station for your laptop. It's all right, where you want it.
Eco Friendly - In Your Choice of 18 Colors To Match Any Decor
Can-Am cabinets are 100% steel, completely recyclable and will never end up in a landfill. The rich powder coat finish is VOC free and hypoallergenic. Can-Am cabinets should last a lifetime or two, so relax, choose your color to match your lifestyle and enjoy the best desk and credenza money can buy. The only thing the next generation will have to worry about is who gets to keep it. Click to see colors.

Mica Top Or Metal Top - The Choice Is Yours
Mica tops are available in 10 flavors to compliment your cabinets, whereas metal tops are identical to your cabinets.
TOP75 - The mica top for desks is 75" wide by 24" deep. MDTOP, our metal desk top is 77" wide by 30" deep and features a 1" overhang on three sides and a 9" rear overhang that allows your guests to tuck their feet under as well. Our standard depth metal top, MTOP77, at 20" deep by 77 " wide, can also be used if the desk will be up against a wall. The mica top is more durable but the metal desk top is more than durable enough for a desk and provides a conventional feel. It is also more eco-friendly. They're both great. Click here for details.

Ergonomics Is The Most Important Factor - After Color
Setting Optimum Desk Height Is Key

Screw-in legs, available in metal or wood, simply replace the levelers at the bottom of Can-Am Cabinets. Choose the height that's right for you. This is what sets Can-Am apart from any other desk manufacturer we know. And it's probably the most important aspect of working at a desk. Sure you can adjust your chair height to accommodate your desk, but having your feet swinging in the air makes as much sense as having your knees touching your chest. That's how they sell one size fits all. But here there is no need to compromise.


This Desk Grows On You

Imagine your first desk growing with you as you grew up. How cool would that have been. Well it's not too late for your kids. Simply replace the legs as they grow or as needs change. As the desk evolves from a writing to computer desk.


Keyboard Station Or Writing Desk?

If it is predominantly a computer or laptop desk you're after, don't settle for "Standard" desk height that dates back to the days when computers didn't even exist. Take the desk pictured here. It is made up of two 20.5" high narrow cabinets on 6" legs with a post formed mica top. Total height: 27.5". Slightly shorter than conventional writing desks - perfect laptop station for most people. The rounded edge on the top adds to the total comfort package.

The same height can be achieved by using 27" high cabinets without legs and a metal desktop. Add 2" legs and you are at average desk height of 29". Add a few inches if you are above average.

Legs are available at 2", 3", 4", 5" or 6".
Wood or Metal. Click here for details.
Incorporate A Desk In Your Multifunctional Cabinet. A Condo Must.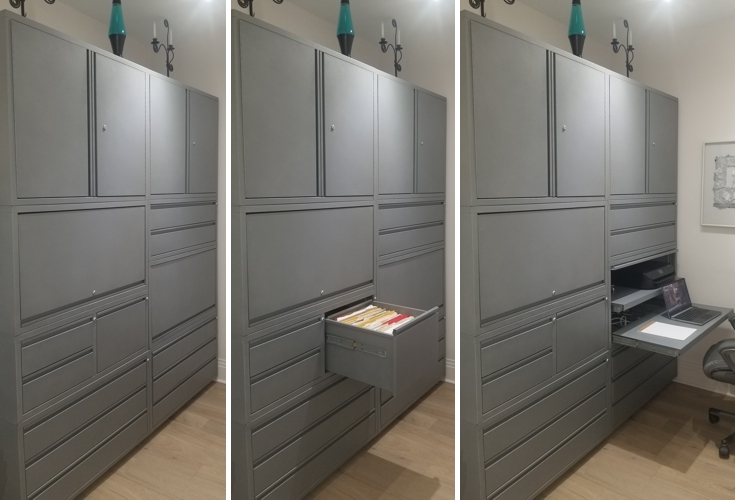 Now Design A Matching Credenza. Your Needs, Your Space - Your Way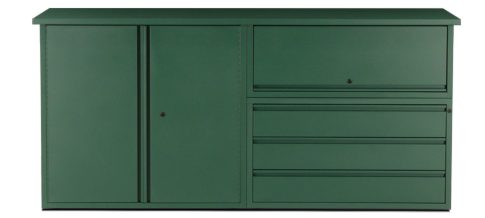 What Would You Like
In Your Credenza?

How about a file cabinet or a secure high density CD / DVD storage center? Perhaps a comprehensive computer or laptop station that locks up tight is better suited to your lifestyle. Whatever you want, wherever you want it. Design without limits. Productivity without compromise. Function and form in perfect harmony. Go Configure!

Any Questions? Call us at 800-387-9790, or Email us: mail@can-am.ca