Choose from a
huge selection of
modular cabinets.
Click model for specs.

CAB14 / FDCAB14

The CAB14 and the flip-door
version, FDCAB14, will carry four
standard components on one optional pullout shelf (PUSHE). These units
are sized like MC2D14.

CAB20 / FDCAB20

The CAB20 and the flip door
version, FDCAB20, will carry up to eight components. These units are sized like all 20.5" high cabinets.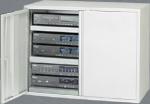 CAB29 / CABDR29


This pullout cabinet is sized to
line up with any two 14" cabinets
stacked together. Available
with locking doors as CABDR29

CAB35 / CABDR35

This pullout cabinet is sized to
line up with any 14" and 20"
cabinet stacked together. Available
with locking doors as CABDR35

FCOM2D27

Combination Cabinet
Provides a flip-door pullout area
and two 6-inch deep media or
general purpose drawers.

MC3D20

Three drawer media cabinet
Holds 360 DVDs or 810 CDs.
Shares the dimensions of our
CAB20 stereo / computer cabinet.



MC2D14

Two drawer media cabinet
Holds 240 DVDs or 540 CDs.
Sized like a CAB14 cabinet.

CABDR16

Drawers max out at eye level,
that's when doors come in handy.
This 2 door cabinet is 16" high.

CABSLD16

Sliding door cabinets complete
the picture. Available with optional
bridges to form an alcove.

NARROW
CABINETS

M3D20X24

Three drawer media cabinet
Just like MC3D20, but narrower,
at 23.5" wide. It holds 180 DVDs
or 405 CDs and shares the height
& depth of all 20.5" high cabinets.

FC20X24

Flip-Door Pullout Cabinet
Just like our standard width FDCAB20,
but narrower, at 23.5" wide.
It shares the height & depth
of all 20.5" high cabinets.
Component Cabinets That Fit Your Needs... And Your Lifestyle!
Design your component cabinet around your electronics - and relax. You can always add or reconfigure.
Modular Electronic Cabinets
— Configurable And Expandable
Choose from a wide array of modular electronic cabinets and design a setup that does exactly what you want it to do. You can even have it on wheels.
And one thing is certain, just like CDs and DVDs, you'll keep adding to your electronic equipment.
Can-Am media cabinetry will adapt to your changing needs. You can add media storage cabinets and component modules or reconfigure as required.
With Can-Am media cabinets you can relax in the knowledge that you made the right cabinetry decision - just sit back and turn up the volume!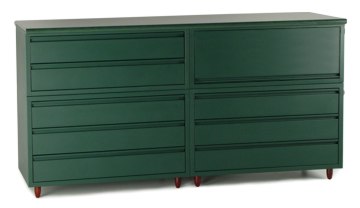 AV Cabinets Good Enough To Be Can-Am Cabinets.
Can-Am electronic cabinets are built with the same exacting standards found in our media storage cabinets. They also share the same dimensions to stack safely, conveniently, and confidently.
Like all Can-Am cabinets, our electronic modules are available in the same 18 decorator colors to match any decor. So you can keep your electronics right where you want them - next to your media.


What Makes Can-Am Electronic Cabinets Special?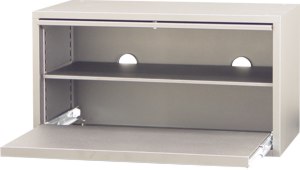 Can-Am Pullout Cabinets have a series of slots that accept stationary or pullout shelves. Sliders or brackets snap into slots in the cabinet, shelves snap onto the sliders or brackets.
All our pullout cabinets feature large wiring cutouts to pass cables and power cords through easily.
Standard width cabinets are wide enough to accommodate two stacks of electronic components side by side. That makes for a comprehensive and accessible setup in a very compact space.

They Don't Call Can-Am Cabinets Cool For Nothing
Unlike wood cabinets that actually insulate your AV equipment, Can-Am metal cabinets absorb the heat from your equipment and radiate it away. Our flip doors slide out of the way so you can operate your electronics with the doors open, which facilitates the heated air to rise naturally and escape. The wiring cutouts provide additional ventilation. Convection replaces the warm air with fresh cool air.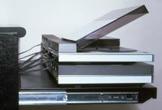 Our pullout shelves are as strong as our drawers. They extend fully so you can access the rear of your equipment for easy wiring. Also useful for electronics, such as record players, that are top loaded.
Our optional pullout shelves (PUSHE) take up 2 inches in height. Optional reinforced fixed shelves (ASHELF) take up less than 1 inch.

Large wiring holes are fitted with plastic snap bushings
All Can-Am wiring holes are large enough to do the job comfortably. Can-Am wiring cutouts are all outfitted with plastic bushings to keep your wires from contacting the cabinet or chafing. Solid caps are available to cover the holes if desired.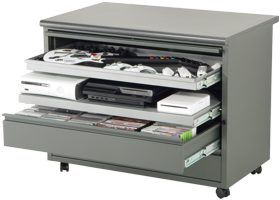 Here's An All-In-One Solution.
Part media cabinet, part flip door pullout cabinet -
FCOM2D27 is the best of both worlds.
It can hold your electronics, consoles, games, Blu-ray discs, controllers, remotes and accessories - even your guitar controller - and it will carry your TV as well. Shelves and mini drawers are optional.

A narrow version is also available as F2D27X24.

What If My Needs Or System Change?
No problem! Because of the modular nature of Can-Am cabinetry, you can reconfigure or expand your modular stereo center at any time. Can-Am cabinets are built to last, designed to grow. To grow with you, your growing media collection, and even your stereo and AV components.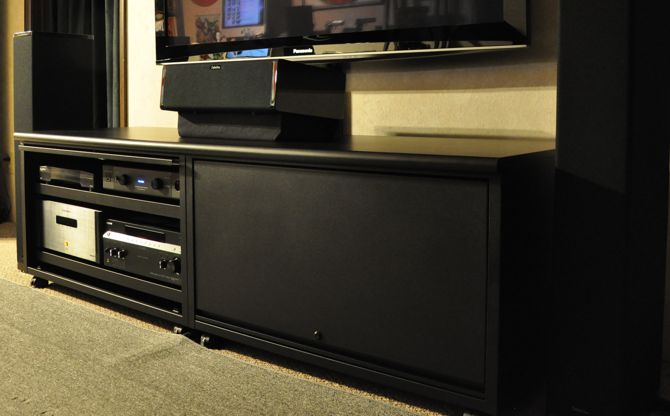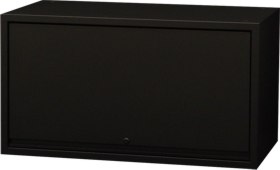 Keep Your Electronics
Dust-Free And Secure!

All pullout cabinets are available with doors - even locks. The FDCAB14 and FDCAB20 are especially nice since the door tucks up and away when the equipment is in use. Can-Am's flip door cabinets protect your sensitive electronics and keep them dust-free, out of sight and secure – function and form, in perfect harmony.

Design Without Limitations!
Design your media center, module by module. The only limit is your imagination. So go ahead, let your imagination run wild. And relax. You can always add or reconfigure Can-Am cabinets as required. Combine your AV center with your computer set up? We can do that, and more!

Add The Flexibility Of Narrow Cabinets And Get
Just The Configuration You Need For Your Space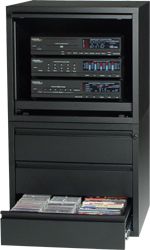 Just like our standard cabinets - but narrower. Our narrow 2 feet wide cabinets complement the standard 3 feet wide cabinets, providing the flexibility to combine cabinets to reach virtually any width - and accommodate any wall space. Go Configure!
A Complete Lineup Of Cabinets - Only 2 Feet Wide
At 23.5" wide these cabinets can go places our standard width cabinets may not fit. They can also be teamed up with our standard width cabinets to create just the right setup. Tops and caddies are available in a variety of lengths to accommodate any combination imaginable, Go Configure!

The narrow cabinets will line up with our standard width cabinets, as they are the same height and depth. They also feature adjustable levelers and reverse dimples topside for stacking. Narrow cabinets will only stack with other narrow cabinets.

Can-Am Cabinets are made of steel,
and are available in eighteen decorator colors.


Can-Am can help configure your AV center. Call to speak to one our designers.


Any Questions?

Call us at 800-387-9790, or Email us: mail@can-am.ca


Go Ahead. Your dream electronic center is just a click or call away.