2 Widths, 3 Heights, 18 Colors ... Unlimited Possibilities
With Can-Am Lateral File Cabinets, you get what you want, anyway you want it. You can even have it on wheels. Stacked vertically, dresser style or back to back as a work island complete with table top. Enjoy world class file cabinets, built right, here in North America.

Most of the modules presented on this page incorporate a legal / letter size hanging file drawer. There are many more models that are sized like our filing cabinet modules that can also be used to design your dream filing solution. And lots of accessories too. Go Configure!
Eco Friendly & Available in 18 Colors To Match Any Decor
Can-Am cabinets are 100% steel, completely recyclable and will never end up in a landfill. The rich powder coat finish is VOC free and hypoallergenic. Many North American manufacturers have resorted to plastic materials to cut corners. We don't. Their cabinets would require impractical and extensive dismantling before their steel could be recycled and many will likely end up in a landfill.
That being said, Can-Am cabinets should last a lifetime or two, so relax, choose your color to match your lifestyle and enjoy the best file cabinet money can buy. The only thing the next generation will have to worry about is who gets to keep it.
Colors are not always represented accurately on your computer screen. Feel free to request color samples.

Cabinet Colors

Chocolate
Brown
Hunter Green
Beige
Director Red
Antique White
White Gloss
White Satin
Fog Gray
Metallic
Silver Satin
Metallic
Steel Gloss
Black Gloss
Textured
Teal Blue
Navy Blue
Steel Blue
Plum
Storm Gray
Charcoal Gray
Black Satin
A World Class Filing Solution For Now And For The Future
Combine a world class lateral file cabinet for hanging files with a world class media file cabinet for archival CDs or DVDs and you've got the ultimate filing solution. Imagine a single filing cabinet for both your active files and all your digitized archive files. Think of the space savings alone. Can-Am has filing cabinets in a huge array of sizes and configurations. And they stack for incredible flexibility. Go Configure.

One disc can hold thousands of scanned, electronic or digital files. One Can-Am media drawer can hold 540 discs in slimline case or 1,000 discs in sleeves. Digitized files will soon be the norm for archiving files and accessing them. And nobody can get you through the transition better than Can-Am. Our file cabinets can be configured with as much file capacity or disc capacity as you like. Last year's files get digitized and filed efficiently in the media drawers along with your active files. No more rifling in the basement or warehouse to access five year old files. It's all there - in one place.

With a Can-Am modular multi-media filing solution you're ready for whatever the future has in store. Choose how much file cabinet vs. media cabinet you want and then build from there. You can always add or reconfigure. And because you're getting your cabinet directly from Can-Am, you know you can always come back for matching components.
What Makes A Can-Am File Cabinet So Special?
| | | |
| --- | --- | --- |
| | It is a perfect marriage of function and form. From safety interlocking drawers to a deep rich powder coat finish. It's the attention to detail. The quality you can see and feel. The available colors. The accessories and modules. The timeless design that lets you add to your cabinets. The over thirty years of fine cabinet making experience. It's Can-Am. And you won't find a shiny label on the outside either. It's everything you wanted in a high quality file cabinet. | |
How Do You Top A Can-Am File Cabinet? Any Way You Like!
| | |
| --- | --- |
| | There are lots of modules available that simply stack so you can top off your file cabinet to meet your precise needs - now or in the future. Expandability and the ability to mix and match is what Can-Am is all about. Invest in high quality cabinets you can't outgrow. We designed our cabinetry with timeless lines, knowing they wouldn't change so you could add cabinets for years to come. Pictured here is a CABDR27 - one of many pullout cabinets that can be outfitted with stationary or pullout shelves or drawers. Check out our full line of modular cabinets that can stack with your file cabinet for just the right solution. Go Configure. |
Buy Two File Cabinets And Get A Desk For The Price Of A Top
Our 24" wide by 27" tall modules make excellent pedestals for a desk. At 26.75" high, many would consider that ideal keyboard height.. Add 2" legs and you're at standard writing desk height of 29".

Our Mica Top is 76 " wide by 24" deep and will add 1" in height. Our Matching Metal Desk Top MDTOP is 30" deep and 78" wide. Add a modesty panel and you have a world class desk. And you get to choose the configuration of each pedestal. Lots of files or half and half. How about a printer compartment. Check out our full range of 27" high modules and Go Configure!
Who Says You Can't Mix Business And Pleasure?
It's an open and shut case. Open for business or pleasure. With Can-Am cabinets you can configure your filing solution within your work station or play station. Mouse over the picture to see it open. Your only limit is your imagination.

Is it a file cabinet / digital archive cabinet / laptop station / stereo cabinet / movie cabinet / music cabinet / TV stand? Yes.
Incorporate File Storage In Your Multifunctional Home Office Setup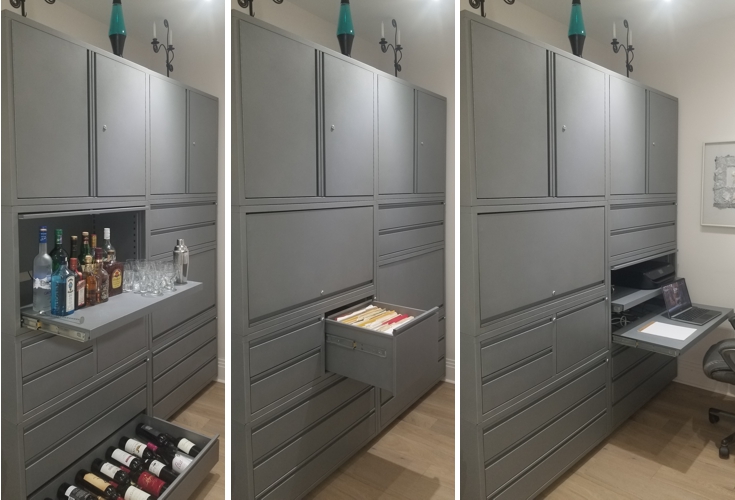 Accessorize! Wheels / Tops / Pullouts / Labels / Caddies / Legs

Customize your file cabinet with a variety of accessories. Click on an item for details.
Imagine A File Cabinet Good Enough For Your Living Room
Can-Am file cabinets are made the same way our media cabinets are made. They're not just good enough for your living room - they're made for your living room. Our TV stands and media centers outfit the media rooms of discerning clients around the globe. Nothing 'Metal-y,' 'Tin-y' or 'Office-y' looking about Can-Am Cabinets.

Can-Am cabinets are made right, here in North America. We know how to build cabinets and how to get them to you. We've been doing that since 1979.

CAN-AM FILE CABINETS

You can configure your own Filing Solution.
Can-Am can help. Call to speak to one our designers.
Any Questions?
Call us at 800-387-9790, or Email us: mail@can-am.ca
CD / DVD Storage Cabinets | Stereo / Electronics Cabinets | TV Stand | Home Theater | Computer Stations | Desk & Pedestals
Lifestyle Furniture | Kitchen Cabinets | Digital Archive | Home Office Furniture / Office Solutions
Products | Testimonials | Features | Photos | FAQs | Prices & Specs | Colors | Etc | How To Order | Contact | Home