Computer Furniture You Get To Design Module By Module.
Nobody knows your needs better than you do. After all, it's your space, it's your computer, and it's your endless collection of media and hardware. And that's no place for cookie cutter office furniture. Go ahead. Combine high tech with high efficiency.
You can have everything you need, at your finger tips. Your manuals, CDs, DVDs, printer - all in as little as two feet. You can even have it on wheels. Open for business or closed.
Can-Am Cabinets produce state of the art computer furniture. Design a configuration to match your equipment, your space, and your needs. And relax, you can add modules as required. Once you surf on a Can-Am surf board - nothing else will do!
Computing Power Without Compromise.
Design Without Limitations.
Can-Am cabinets with pullout shelves create king sized keyboard and laptop stations that can be positioned to suit you. You can even add a pullout writing desk above your keyboard station. The shelves extend 18 inches so there is plenty room for your legs.
Incorporate drawer modules in your computer station to store CDs, files, manuals, or just for general purpose storage. Not just another computer desk - it's a Can-Am desk.
Keyboard And Laptop Stations As Big And As Strong As Our Drawers.
Eco Friendly & Available in 18 Colors To Match Any Decor
Can-Am cabinets are 100% steel, completely recyclable and will never end up in a landfill. The rich powder coat finish is VOC free and hypoallergenic. Can-Am cabinets should last a lifetime or two, so relax, choose your color to match your lifestyle and enjoy the best computer station money can buy. The only thing the next generation will have to worry about is who gets to keep it. Click to see colors.

Who Says You Can't Have A Computer Station In Your Living Room?
With Can-Am it's an open and shut case. Open for business or pleasure. Can-Am furniture can be found in contemporary living rooms all around the world. So choose your modules and enjoy your computer or laptop station anywhere.

Mouse over or touch the picture to see it in action.
Accessorize! Wheels / Tops / Pullouts / Labels / Caddies / Legs / etc.

Customize your computer furniture with a variety of accessories. Click on an item for details.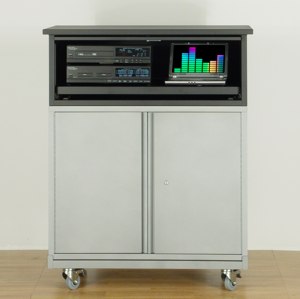 Mobile Computing

How about a comprehensive computer station on wheels?. Space efficient and versatile. Enjoy the uncompromising features of a Can-Am work station anywhere. Take sharing to the next level. Perfect as walk-up terminals.
Home Office
Can-Am modular cabinets perform exceptionally well in a home office. Whatever you want, wherever you want it. Space efficiency and durability. From file storage to working counter space, your only limit is your imagination.
And Don't Forget The Kids

They can design a unique dresser complete with TV, computer and desk station. Empower them to create their own dream setup. How cool is that!

A Computer In An Entertainment Center? You Betcha!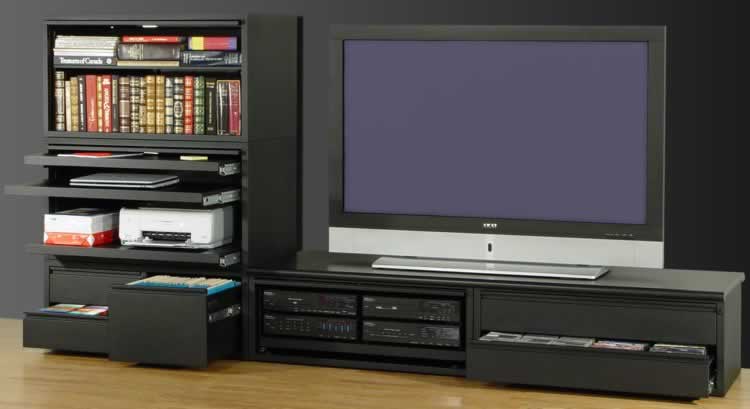 This Is Something We Call, "Zen For Your Den"

If you can't decide whether to turn your den into a home office or a TV room - you don't have to. You can have it all and you can have it all in one place, and this is the place. Enjoy peaceful coexistence. Hmmmmm. Mouse over it to see it closed. Hmmmmmm.
With the Media Center PCs, that can do everything from play and record TV shows, stream music to your stereo and control every aspect of your home theater, why wouldn't you want your computer next to your TV anyway? With Can-Am you can seamlessly integrate a computer cabinet into your home theater or stereo setup. Now or in the future. You're ready for anything the future has in store.

You Can Also Have It All - In Less Than Two Feet

If you thought getting a complete computer station in about 3 feet was amazing - how about in less than two feet! Our narrow cabinets are only 23.5" wide, but are just as strong, and just as useful as our standard width cabinets. The base cabinet pictured here, CH20X24, completes the package with a 12" hanging file drawer and a 6" media or general purpose drawer. Go Configure!

Good things do come in small packages!

Click to see it
Open | Laptop Station | In Action
Writing Desk | Printer Station | Plant Stand

What If My Needs Or System Change?
No problem! Because of the modular nature of Can-Am cabinetry, you can reconfigure or expand your modular computer station at any time. Can-Am cabinets are built to last and designed to grow. To grow with you, your growing media collection, your computer and all it's peripherals. It will also reconfigure to adapt to your needs in your new home when you move. And it's modular, so it moves easily.
Design your computer station, module by module. There are lots of modular cabinets that can be stacked any which way for limitless design flexibility. There are media drawers, filing drawers, stereo modules, computer modules, printer and general storage modules too. Our pullout modules are featured on the left side of this page. For a view of our complete product line click here.


Modular Computer & Laptop Cabinetry


You can configure your own computer station.
Can-Am can help. Call to speak to one our designers.
Any Questions?
Call us at 800-387-9790, or Email us: mail@can-am.ca