LPCAB42 - 3-Drawer Vinyl LP Cabinet
LPCAB42 holds 840 LPs

It is also compatible with all standard width Can-Am cabinets so you can configure your new dream setup around your entire collection.

SPECIFICATIONS:

Weight: 135 lb
Cabinet Dimension:
37.75" W x 42.25" H x 20" D
Inside Drawer:
33.5 W x 13 H x 16.5 D
LP Capacity: 840 Vinyl LPs
Construction:
18 & 22 ga cold rolled steel
Finish: Baked on powder coat

Price: $1095. Plus Shipping
Don't Forget Your 45s - We Didn't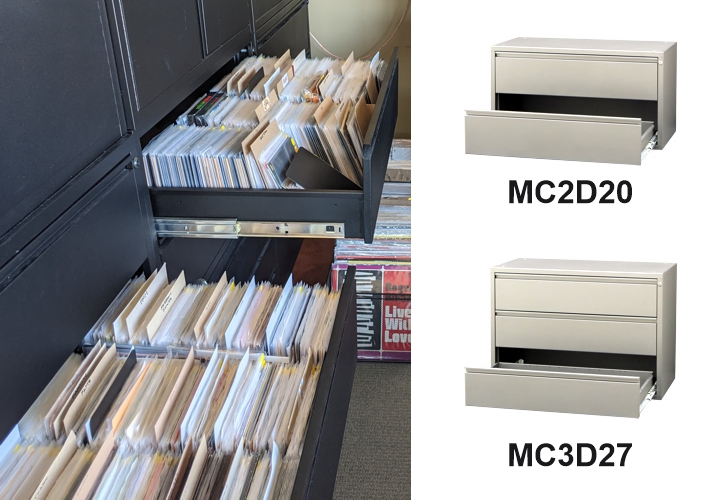 45 RPM single records fit nicely in MC2D20 and MC3D27 cabinets. You'll get 4 rows in each drawer – that's 400 in each drawer! High capacity storage means no more stacks of storage boxes to move when you reload your jukebox or if you want to listen to that one particular song. Everything at your fingertips.
Dust-Free And Secure.
Can-Am vinyl storage cabinets feature a lock for safety and security. The cabinets are equiped with an interlocking mechanism that allows only one drawer to open at a time.
Eco Friendly As Well.
Can-Am cabinets are made of steel. Nothing is stronger or more durable and since steel is completely recyclable your cabinets will never end up in a landfill. The rich powder coat finish is also VOC free and hypoallergenic. That means no gases emanating from your cabinetry.
Can-Am cabinets are available in a wide range of modules so get out your wish list and design your dream media center. You could be enjoying it in as little as two to three weeks.
Built To Last. From One Generation To Another.
Can-Am Cabinets Are Available in 18 Colors To Match Any Decor
Cabinet Colors

Chocolate
Brown
Hunter Green
Beige
Director Red

Antique White

White Gloss
White Satin
Fog Gray
Silver
Satin
Steel
Gloss
Black
Gloss
Teal
Blue
Navy Blue
Steel Blue
Plum
Storm
Gray
Charcoal
Gray
Black
Satin
Colors are not always represented accurately on your computer screen. Feel free to request color samples and we'll send out actual powder coated metal samples. Can-Am cabinets are available with or without locks.
What Makes Can-Am Cabinets So Special?
Can-Am cabinets are built to last and designed to grow with you. With thirty-eight modules in our offering and tons of accessories, there is no limit to the configurations you can design. And when you move, these cabinets can be reconfigured to move with you. Can-Am has been serving music lovers since 1979.

Pictured here is LPCAB29 on top of a 2-drawer CD cabinet MC2D14. The setup is topped off with a metal top MTOP40.
Can-Am

Vinyl Record Storage Cabinets
To Request Shipping Costs Click Here.
Or Call Us At 800-387-9790, or Email: mail@can-am.ca